Gallery: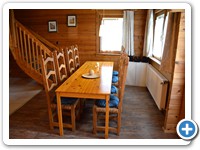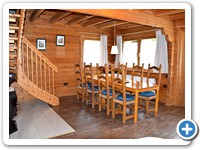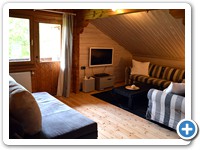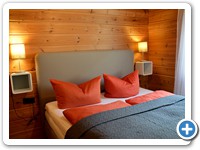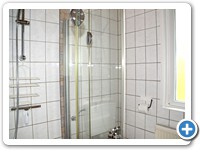 joomla lightbox photo galleryby VisualLightBox.com v6.1
More Information:
House for 8 people (up to 2 extra beds possibly)
No smoking-house
Pets are welcome
Finland log cabin - ecologically valuably
▪ You inhabit the house alone
▪ Allergy sufferer-suitable
▪ House on 600 square metres of property
▪ Terrace with garden furniture included
▪ Big sunbathing area
▪ Balcony
▪ Modern gas heating
Parking possibilities for up to 4 passenger cars
▪ 1 parking bay under the preroof of the house
Sleeping possibilities:
▪ 4 bedrooms with a double bed; one of it less than 11 square metres, hence, as a single room marked
▪ We can add 2 more beds in each of the upper sleeping rooms
Grand floor:
▪ Beautiful Chimney
▪ Dining room for 10 people
▪ Shower incl. WC
▪ Stereo with CD player and USB connection
▪ Kitchen with culinary bar:
▫ Dish washer
▫ Fridge with freezing compartment
▫ Microwave
▫ Cooker, cooking dishes
▫ Oven
▫ Coffeemaker
▫ Water cooker
▫ Egg boiler
▫ Toaster
▫ 20 times dishes and cutlery
Upstairs:
▪ Generous sitting room with Sat TV, Flat Screen
▪ 2 double bedrooms
▪ WC
▪ Big Balcony
Other equipment for your comfort:
▪ Hairdryer
▪ Irons, ironing board
▪ First-aid box
▪ Child chair free of charge on inquiry
▪ Cot free of charge on inquiry
▪ SAT TV, DVD player and stereo free of charge available
▪ Bathrobes (on demand)
▪ Chimney wood (barrow) against fee – 15.00 EUR
▪ Domestic animals here not admitted
In the price contain:
▪ Fresh referring beds with arrival
▪ Towels & shower cloths
▪ Final cleaning
▪ All additional costs for water, stream, heating
Prices of this house:
▪ Per night for 2 people:
Weekdays Sunday till Friday: 219.00 EUR
Week-end Friday to Sundays/Holidays/Eastern/Sylvester: 379.00 EUR
Per night every other person: 20.00 EUR
Children: 10.00 EUR

Minimum rental time:
▪ Minimum rental time on weekdays: 3 nights
▪ Minimum rental time an weekends: 2 nights
▪ On long weekends the minimum rental time amounts to 3 bzw. 4 nights
▪ Minimum rental time on Easter & New Year's Eves: 7 days
▪ With lease under the minimum rental time, the base price is calculated for 2 people per night.
We offer you with pleasure a WLAN via LTE (4G). Internet EUR 39.90 per week/EUR 9.90 per day (max. 50 GB).

The rental price includes all costs for waste disposal, water, waste water and final cleaning. Electricity and gas are billed according to
consumption.